Writing Techniques
Lamb's historical accuracy played a great part in the success of both his non-fiction and fiction, and he brought vivid narrative to both biography and adventure yarn.
He had many other strengths as a writer of fiction, however, and it is these that are discussed here. The following comments for the most part address the years 1917-1936, when Lamb was writing the fiction for which he is best remembered.
Complex Characters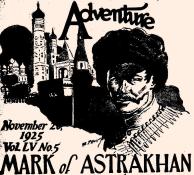 Because he was writing adventure fiction, Lamb's heroes had to have certain qualities. Most are skilled fighters and all are resourceful in one way or another. Many are quite intelligent, or team up with characters who are. Lamb preferred complex plots and to survive them his heroes had to live by their wits.
Barring these similarities, however, his lead characters are very different. Nur Mahal is an aristocratic Moslem woman, Khlit a gruff and elderly warrior, Sir Hugh a stubborn, unimagintive, and uncomprosiming knight; Khalil el Kadr a curious Arab who values a good horse more than his own skin; Abdul Dost a devout Moslem devoted to his country. And there are more, many more. Lamb could write convincingly from the viewpoint of a Christian, Moslem, agnostic, male, female, queen, or peasant without prejudice--or at least with only the prejudices natural to the characters. (Moslems of medieval times not by nature being inclined to care much for Crusaders, for instance.) In a time when racial intolerance was far more accepted and the women's sufferage movement still new, Lamb was perfectly comfortable treating foreigners and women on an equal footing with western white men. This is worth dwelling on for a moment, for pulp fiction is generally dismissed as being completely, unapologetically prejudiced. One has only to read Lamb to realize that this common wisdom is false, and in this he was not alone among Adventure writers.
In some adventure fiction, particularly early efforts, heroes are indestructable. Not so in Lamb's stories--they are wounded, scarred, crippled, and even killed. They suffer privation and loss, and we experience it with them. Only rarely does Lamb descend into melodrama.
Lamb's villains are complex as well. They are never just convenient foils for heroes--they are individuals with their own goals, strengths, and weaknesses. Often times they are not even evil in the standard sense, they merely seek goals that conflict with those of a story's protagonists.